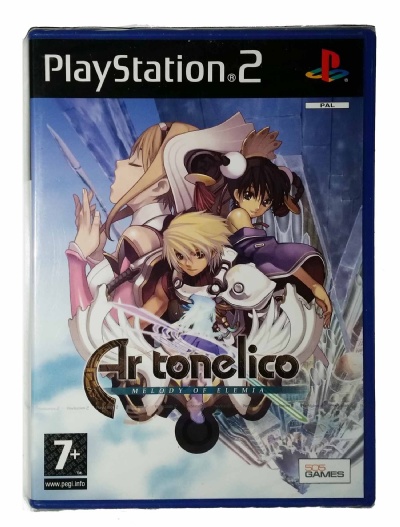 Ar Tonelico: Melody of Elemia [English / Italian] - Playstation 2
PS2-ARTON1NS
Ar Tonelico: Melody of Elemia [English / Italian] - Playstation 2
The story of Ar tonelico: Melody of Elemia takes place in the world of Sol Ciel, a world consisting of two floating islands connected by the Tower of Ar tonelico. Long ago people had built up a great civilization under the guidance of the goddesses the Trio of Elemia, but over the years things have changed; there were two disasters that have lead towards the destruction of the world. In the first disaster most of the lands and skies were lost, in the second the super civilization was lost; now in the third era another disaster is beginning. Viruses born in the Altar of Apostles have begun to appear, though normally not in physical form have now taken on the form of monsters and could destroy the world. In the upper levels of the Tower is a city called Platina where the Knights of Elemia reside; their job is to control virus outbreaks to preserve the tower. One such knight is Lyner Barsett; the main character of the story, he will need to go on a quest to find the Hymn Crystal which can save the Tower of Ar tonelico and the whole world.

Ar tonelico: Melody of Elemia is an RPG style game where you control Lyner Barsett. As the game begins, your airship crashes in the lower world; you'll not only need to locate the Hymn Crystal somewhere in the lower world, but then figure out how to return to the upper levels of the tower! Gameplay features both an exploration mode and battle mode. When exploring you can wander around the many locations of Sol Ciel; you'll encounter numerous people to talk to, various towns and cities, as well as locate useful items. In many areas battles are randomly encountered; on the screen is a colored meter - beginning green, it slowly fades towards red. The closer to red the meter becomes, the greater your chances of randomly encountering a battle.

Battles in the game are turn based; Lyner as well as other characters in your party each have the ability to perform attacks as well as utilize various skills. Throughout the game you will encounter several characters known as Reyvateils; Reyvateils have the unique ability to sing songs which can be crafted into powerful magic for attacking, healing, or defense. When a Reyvateil is in your party, she remains at the back during battles; you can give her commands on what songs to sing - the longer she sings, the more powerful the magic will become. However singing tires a Reyvateil, and if she sings for too long she becomes so tired the built up magic is lost so you need to make sure to give a command to activate the magic before that happens. Normally opponents don't attack a Reyvateil, only the characters on the front line. Occasionally though an enemy will target a Reyvateil; when this happens you need to make sure other characters protect her, for though Reyvateils can craft powerful magic they are mostly defenseless to enemy attacks! When all opponents in the battle have been defeated, the battle is won and points are earned which can level up your characters.

Throughout the game you will need to help Reyvateils learn more powerful song magic. To do this you will need to dive into a Reyvateils cosmosphere. The cosmosphere is the world of her mind consisting of her private thoughts and emotions; when there you can interact with the Reyvateil and help her overcome obstacles to learn new songs. However since you are viewing her private thoughts, you first need to gain the trust of the Reyvateil. This is done by interacting in the real world first by talking; talk topics can be found in various locations throughout the world and also after various events. When you have enough talk topics completed you can then dive to the next level in the Reyvateils mind.

Another important skill Lyner learns early on is Grathmelding; this allows you to combine various items to form new ones. To do so, you will first need to locate a recipe so you know what to combine as well as Grathnode crystal to aid the process. The required items can sometimes be bought in shops or may be found by exploring the world. The items you create may be necessary to get past certain obstacles, or can just help you out in battle.
Please note the back cover and manual are in Italian only, but game plays fully in English.
Buy Ar Tonelico: Melody of Elemia [English / Italian] - Playstation 2 now from Fully Retro. Shipping to Australia and New Zealand.
| | |
| --- | --- |
| Name: | Ar Tonelico: Melody of Elemia [English / Italian] - Playstation 2 |
| Released: | 2007 |
| Genre: | Role-Playing Game |
| Players: | 1 |
| Format: | PAL |
| Languages: | English |
| Developer: | Reflections Interactive |
| Publisher: | Banpresto |
Covid-19 update
We're still open for business as usual, and shipping games out to you in these difficult times. Given the global lockdowns, there are understandably delays in items being received. Whilst we have not yet revised dispatch / delivery estimates whilst we learn more about the impact that Covid-19 is having on postal services. In the meantime, we would ask that you are as patient as possible, and understand that we are doing everything we can to get your items out to you as soon as humanly possible.
Stay safe and keep gaming! :)
Free Shipping
Shipping is free on all games throughout Australia and New Zealand.
Destinations
All items can be shipped throughout Australia and New Zealand, and to the rest of the world. Please add items to your basket to see your delivery charge if you are outside of Australia or New Zealand.
Dispatch Times
Items are dispatched within 3 working days unless otherwise stated. Your estimated dispatch date will be shown at checkout. Some items may be in stock at our supplier and require a transfer to our dispatch centre before being sent, these will all have a later estimated dispatch date shown in your basket and on your order confirmation. Please note that these dates are estimated, and whilst we always aim to meet and often exceed these dates, there will be the occasional item that is dispatched slightly later than the estimate.
Shipping Times
Shipping times are approximately 14 days to Australia and New Zealand.
Shipping Internationally is as follows:
Europe: 7-10 days
Rest of the World: 14 days
Delivery Costs
Delivery costs vary by item, but as standard to Australia are:
Games: FREE
Accessories: FREE
Consoles: FREE
Handheld Consoles: FREE
Delayed or missing items
If you have not received your item within the timeframe estimated on your dispatch confirmation, please contact us, and we will be happy to look into this for you. There can be delays caused by weather, holidays, and postal and customs backlogs. These are thankfully fairly uncommon, but please do not be alarmed if your item is a little late. On the incredibly rare occasion that an item is found to be lost, a replacement will be provided.
Please ensure that you check your delivery address before buying. We cannot be held responsible for lost items where an incorrect address has been provided.
Returns
If you are unsatisfied with any of the items received (which we hope, due to our high standards, would never happen) please let us know within 7 days of receipt, as we can usually offer a replacement.
Please ensure that you do contact us first for a return authorisation code, as returns will not be accepted without this.
Stock coming soon