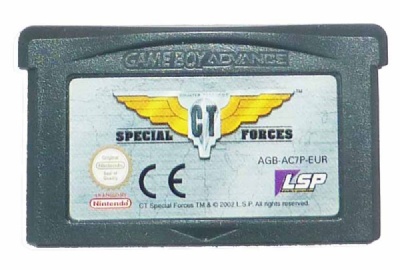 CT Special Forces - Game Boy Advance
GBA-CTSPECIA
CT Special Forces - Game Boy Advance
CT Special Forces is a side scrolling platform shooter that has a superficial similarity to the games of the Metal Slug series. The player controls an operative of a counter-terrorist force on a mission around the globe to stop terrorist activity and arrest its leaders. The digital pad moves the character, while the B button shoots the weapon and the A button makes the character jump. The character can't shoot downwards. The L trigger cycles through the inventory (displayed on the top-left corner of the screen) and the R trigger throws grenades (when they are available). By selecting an ammunition type, the character uses the corresponding weapon (gas canisters for the flamethrower, machine gun pents for that weapon, etc). The default rifle has an infinite number of bullets. Other items include a grappling rope and a pair of handcuffs to arrest surrended enemies. Ammunition and health packs are scattered throughout the levels, as are proximity mines and assorted enemies.

The regular gameplay is occasionally broke by mini-games and entirely different sections: when the character collides with a reticule placard, the game switches to a first-person shooting gallery where the player has to shoot down a certain number of terrorists and rescue the hostages. When colliding with a parachute, two gauges with a red line on the middle appear on the screen. The one on the left measures the position of the falling character and the one on the right measures height. The character must be guided to the right spot, and the shooting button must be pressed when both gauges reach the red bar. Some mission stages change the game to a vertical shooter that recalls Tiger-Heli and similar games, where the player controls a helicopter viewed from the top.

The game has 4 missions, each with its own theme: snow mountain, desert, jungle and a city. A password system is provided (the password is displayed after the completion of every mission).
Buy CT Special Forces - Game Boy Advance now from Fully Retro. Shipping to Australia and New Zealand.
| | |
| --- | --- |
| Name: | CT Special Forces - Game Boy Advance |
| Released: | 2002 |
| Genre: | Action |
| Format: | PAL |
| Languages: | English |
| Contains: | Cartridge Only |
| Developer: | LSP |
| Publisher: | LSP |
Free Shipping
Shipping is free on all games throughout Australia and New Zealand.
Destinations
All items can be shipped throughout Australia and New Zealand, and to the rest of the world. Please add items to your basket to see your delivery charge if you are outside of Australia or New Zealand.
Dispatch Times
Items are dispatched within 3 working days unless otherwise stated. Your estimated dispatch date will be shown at checkout. Some items may be in stock at our supplier and require a transfer to our dispatch centre before being sent, these will all have a later estimated dispatch date shown in your basket and on your order confirmation. Please note that these dates are estimated, and whilst we always aim to meet and often exceed these dates, there will be the occasional item that is dispatched slightly later than the estimate.
Shipping Times
Shipping times are approximately 14 days to Australia and New Zealand.
Shipping Internationally is as follows:
Europe: 7-10 days
Rest of the World: 14 days
Delivery Costs
Delivery costs vary by item, but as standard to Australia are:
Games: FREE
Accessories: FREE
Consoles: FREE
Handheld Consoles: FREE
Delayed or missing items
If you have not received your item within the timeframe estimated on your dispatch confirmation, please contact us, and we will be happy to look into this for you. There can be delays caused by weather, holidays, and postal and customs backlogs. These are thankfully fairly uncommon, but please do not be alarmed if your item is a little late. On the incredibly rare occasion that an item is found to be lost, a replacement will be provided.
Please ensure that you check your delivery address before buying. We cannot be held responsible for lost items where an incorrect address has been provided.
Returns
If you are unsatisfied with any of the items received (which we hope, due to our high standards, would never happen) please let us know within 7 days of receipt, as we can usually offer a replacement.
Please ensure that you do contact us first for a return authorisation code, as returns will not be accepted without this.