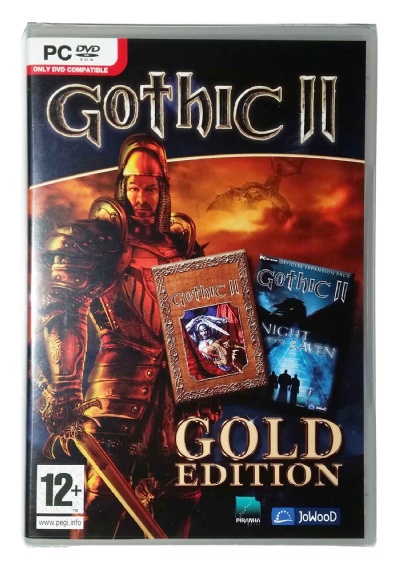 Gothic II: Gold Edition - PC
PC-GOTHIIGD
Gothic II: Gold Edition - PC
Contains both the original game, Gothic II, and the expansion game, Gothic II: Night of the Raven

The demon known as The Sleeper has been banished and the magical barrier around the prison mining colony on the isle of Khorinis destroyed. The nameless hero who accomplished this, however, had to pay a high price: he lies buried under a pile of rocks.

Gothic II:
Shortly afterwards he is revived by the renegade mage Xardas. A new threat is rising: evil armies, led by dragons, are gathering in the old mine valley. Someone has to take the news to the people of Khorinis and help them in defeating this menace. But the people have their own problems: the war against the orcs is still raging on on the mainland, and the king has sent his paladins to Khorinis to make sure that the mining of the magical ore continues, now that the prisoners have fled the mine. Many of the former prisoners have now become mercenaries, hired by the farmers on the island, who refuse to obey the king and his minions any longer. Violent conflict seems inevitable.

Gothic II is a 3D action role-playing game that uses a refined version of the previous game's engine and controls. The world is many times larger than in the first game: the mine valley (which has changed a lot in the meantime) is still accessible, but is only a relatively small part of the game now. As in the original game, the player can join one of three different factions, with the choice influencing the player character's abilities, opening up different quests and changing the details of the story. The available factions are the city militia, the mercenaries and the fire mages.

Aside from significantly expanding the environments and adding many new weapons, armor, and monster types, the sequel plays very similarly to the preceding installment. Combat and magic are action-based; melee fights are based on combinations of attack moves and directional arrows. Non-playable characters follow a daily schedule, and many objects are usable.

Gothic II: Night of the Raven:
This is the official add-on to Gothic II. Gameplay is handled similarly, but there is much more to do. The story is woven seamlessly into the world of Gothic II, which is nice but also means that you will have to start a new character to play. And once you're finished with the add-on, you can take on the "old" world of Gothic II once more; this time with new weapons, new monsters, new spells and much more challenging character development. Get ready for 40 more hours of the same Gothic II gameplay in a previously undiscovered part of the island of Khorinis.
Buy Gothic II: Gold Edition - PC now from Fully Retro. Shipping to Australia and New Zealand.
| | |
| --- | --- |
| Name: | Gothic II: Gold Edition - PC |
| Released: | 2004 |
| Genre: | Role-Playing Game |
| Format: | PC DVD-ROM |
| Languages: | English |
| Developer: | Reflections Interactive |
| Publisher: | JoWooD Productions |
Free Shipping
Shipping is free on all games throughout Australia and New Zealand.
Destinations
All items can be shipped throughout Australia and New Zealand, and to the rest of the world. Please add items to your basket to see your delivery charge if you are outside of Australia or New Zealand.
Dispatch Times
Items are dispatched within 3 working days unless otherwise stated. Your estimated dispatch date will be shown at checkout. Some items may be in stock at our supplier and require a transfer to our dispatch centre before being sent, these will all have a later estimated dispatch date shown in your basket and on your order confirmation. Please note that these dates are estimated, and whilst we always aim to meet and often exceed these dates, there will be the occasional item that is dispatched slightly later than the estimate.
Shipping Times
Shipping times are approximately 14 days to Australia and New Zealand.
Shipping Internationally is as follows:
Europe: 7-10 days
Rest of the World: 14 days
Delivery Costs
Delivery costs vary by item, but as standard to Australia are:
Games: FREE
Accessories: FREE
Consoles: FREE
Handheld Consoles: FREE
Delayed or missing items
If you have not received your item within the timeframe estimated on your dispatch confirmation, please contact us, and we will be happy to look into this for you. There can be delays caused by weather, holidays, and postal and customs backlogs. These are thankfully fairly uncommon, but please do not be alarmed if your item is a little late. On the incredibly rare occasion that an item is found to be lost, a replacement will be provided.
Please ensure that you check your delivery address before buying. We cannot be held responsible for lost items where an incorrect address has been provided.
Returns
If you are unsatisfied with any of the items received (which we hope, due to our high standards, would never happen) please let us know within 7 days of receipt, as we can usually offer a replacement.
Please ensure that you do contact us first for a return authorisation code, as returns will not be accepted without this.