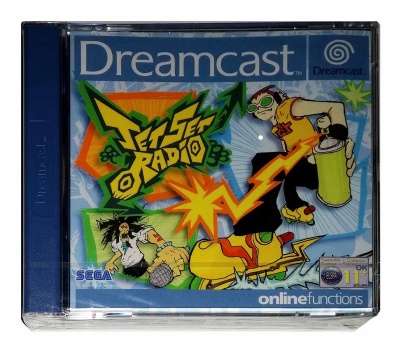 Jet Set Radio (New & Sealed) - Dreamcast
SDC-JETGRINS
Jet Set Radio (New & Sealed) - Dreamcast
Tokyo-to, a city not unlike Tokyo, somewhere in Asia, in the near future. This is the story about the GG's, one of three rival teenage gangs who ride motorised inline skates and are tagging the streets with graffiti. There is a turf war going on between the gangs GG's, the Poison Jam, and the high-tech freaks, the Noise Tanks. The evil Rokkaku Corporation has the corrupt police in their grasp, and, headed by Captain Onishima, the cops are hell-bent on subduing the unruly teen protagonists. But there is light in the darkness: the underground DJ, "Professor K," and his Jet Set Radio station keep tabs on what is happening on the streets of Tokyo-to, and soon our teens will have something much darker than the police to worry about.

As one of the GG's, you skate through a variety of different levels, from busy streets to run-down rooftops and smelly sewers where you learn new moves, collect spray cans, and tag the streets with graffiti. New graffiti designs can be unlocked by finding "Graffiti Souls" in levels, by designing new graffiti yourself, or by going online and downloading any images you find while browsing the internet. Fight the rival gangs "Poison Jam" and the "Noise Tanks", the evil mega-corporation Rokkaku and their police cronies in this fresh take on the platform genre, mixing traditional platform elements with skating similar to that of the Tony Hawk's Pro Skater games. Players are scored on their performance in a level, both on the level of graffiti attempted as well as optional tags and skating tricks. As the game progresses challenge maps open that test the player's ability to do larger tags, more tricks, or race against an opponent.

The American and European release contained two new levels based on New York. The story and order that you meet characters was modified to include these two levels. Both releases also have different unique soundtracks for these levels.
Buy Jet Set Radio (New & Sealed) - Dreamcast now from Fully Retro. Shipping to Australia and New Zealand.
| | |
| --- | --- |
| Name: | Jet Set Radio (New & Sealed) - Dreamcast |
| Released: | 2000 |
| Genre: | Action |
| Format: | PAL |
| Languages: | English |
| Developer: | Smilebit |
| Publisher: | Sega |
Free Shipping
Shipping is free on all games throughout Australia and New Zealand.
Destinations
All items can be shipped throughout Australia and New Zealand, and to the rest of the world. Please add items to your basket to see your delivery charge if you are outside of Australia or New Zealand.
Dispatch Times
Items are dispatched within 3 working days unless otherwise stated. Your estimated dispatch date will be shown at checkout. Some items may be in stock at our supplier and require a transfer to our dispatch centre before being sent, these will all have a later estimated dispatch date shown in your basket and on your order confirmation. Please note that these dates are estimated, and whilst we always aim to meet and often exceed these dates, there will be the occasional item that is dispatched slightly later than the estimate.
Shipping Times
Shipping times are approximately 14 days to Australia and New Zealand.
Shipping Internationally is as follows:
Europe: 7-10 days
Rest of the World: 14 days
Delivery Costs
Delivery costs vary by item, but as standard to Australia are:
Games: FREE
Accessories: FREE
Consoles: $13.90 per item
Handheld Consoles: FREE
Returns
If you are unsatisfied with any of the items received (which we hope, due to our high standards, would never happen) please let us know within 7 days of receipt, as we can usually offer a replacement.
Please ensure that you do contact us first for a return authorisation code, as returns will not be accepted without this.
here is our new product please click cartier love bracelet,buy now get big discount.