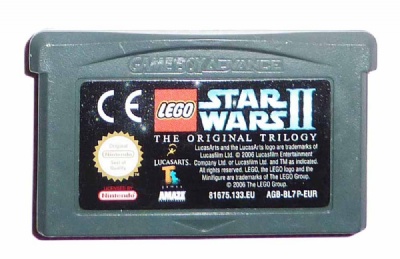 Lego Star Wars II: The Original Trilogy - Game Boy Advance
GBA-LEGOSW2O
Lego Star Wars II: The Original Trilogy - Game Boy Advance
Focused on the original trilogy of the Star Wars universe (A New Hope, The Empire Strikes Back and The Return of Jedi), the sequel to LEGO Star Wars brings some innovations over the first title, making it more similar to its PC and console counterpart than the previous game.

During the story mode, the player is joined on-screen by two other characters, and can change between them to use their specific skills to proceed. Characters share a life bar of four hearts, with the rate of depletion changing according to each character (a stormtrooper will lose three hearts when hit by a blaster, Vader will take two or three hits before losing one). If a support character is "dismantled" by attacks, there's no problem, but letting that happen to the controlled character means a loss of stud points (the game currency), as well as a drop on the "Super Kit" gauge, which replaces the Jedi rank evaluation of the previous titles.

Gameplay has been changed to accommodate the lack of lightsaber battles in the later episodes, and so blasters are a lot more effective and fire faster, but have lost their "charge" mode. New flight missions are also included. These are similar to previous Star Wars games, like Return of the Jedi, and allow the player to attack both Death Stars, skim the surface of the forest moon of Endor in a Speeder, escape from an asteroid field with the Millennium Falcon, or draw wires around the legs of Imperial walkers in Hoth.

There are three major character classes: droids (unable to fight, but the only ones capable of opening most regular doors during story mode), Jedi (melee fighters capable of interacting with larger objects to uncover hidden studs and with different Jedi powers) and Blaster users, which can fire at an enemy from a distance, as well as assemble smaller objects (like short bridges or door switches).

Gameplay remains a light jump-and-slash isometric game, with the goal being usually to go from point A to B, while pulling levers somewhere in the level. Like in the first game, the game can not be entirely completed without playing in Free Mode (a near perfect run in Story mode will only complete around 50% of the game), as many doors can only be opened, or even reached, by using the unique special abilities of one of the 36 unlockable characters.

To acquire characters for Free Play, the player now needs to accomplish three things: earn enough credits (the value of each stud was increased 10 fold), complete a level (to unlock playable characters such as the level variation of Luke or Leia), and get all "mini kits" (which replace the "Death Star Plans" of the prequel). Characters that can be unlocked include enemies, such as the Tusken Raider or Stormtroopers, or heroic characters, like Yoda. There are also additional items to be bought, including music, palette swaps, new game modes, lightsaber colours and hints.
Buy Lego Star Wars II: The Original Trilogy - Game Boy Advance now from Fully Retro. Shipping to Australia and New Zealand.
| | |
| --- | --- |
| Name: | Lego Star Wars II: The Original Trilogy - Game Boy Advance |
| Released: | 2006 |
| Genre: | Action |
| Format: | PAL |
| Languages: | English |
| Contains: | Cartridge Only |
| Developer: | Reflections Interactive |
| Publisher: | LucasArts |
Covid-19 update
We're still open for business as usual, and shipping games out to you in these difficult times. Given the global lockdowns, there are understandably delays in items being received. Whilst we have not yet revised dispatch / delivery estimates whilst we learn more about the impact that Covid-19 is having on postal services. In the meantime, we would ask that you are as patient as possible, and understand that we are doing everything we can to get your items out to you as soon as humanly possible.
Stay safe and keep gaming! :)
Free Shipping
Shipping is free on all games throughout Australia and New Zealand.
Destinations
All items can be shipped throughout Australia and New Zealand, and to the rest of the world. Please add items to your basket to see your delivery charge if you are outside of Australia or New Zealand.
Dispatch Times
Items are dispatched within 3 working days unless otherwise stated. Your estimated dispatch date will be shown at checkout. Some items may be in stock at our supplier and require a transfer to our dispatch centre before being sent, these will all have a later estimated dispatch date shown in your basket and on your order confirmation. Please note that these dates are estimated, and whilst we always aim to meet and often exceed these dates, there will be the occasional item that is dispatched slightly later than the estimate.
Shipping Times
Shipping times are approximately 14 days to Australia and New Zealand.
Shipping Internationally is as follows:
Europe: 7-10 days
Rest of the World: 14 days
Delivery Costs
Delivery costs vary by item, but as standard to Australia are:
Games: FREE
Accessories: FREE
Consoles: FREE
Handheld Consoles: FREE
Delayed or missing items
If you have not received your item within the timeframe estimated on your dispatch confirmation, please contact us, and we will be happy to look into this for you. There can be delays caused by weather, holidays, and postal and customs backlogs. These are thankfully fairly uncommon, but please do not be alarmed if your item is a little late. On the incredibly rare occasion that an item is found to be lost, a replacement will be provided.
Please ensure that you check your delivery address before buying. We cannot be held responsible for lost items where an incorrect address has been provided.
Returns
If you are unsatisfied with any of the items received (which we hope, due to our high standards, would never happen) please let us know within 7 days of receipt, as we can usually offer a replacement.
Please ensure that you do contact us first for a return authorisation code, as returns will not be accepted without this.