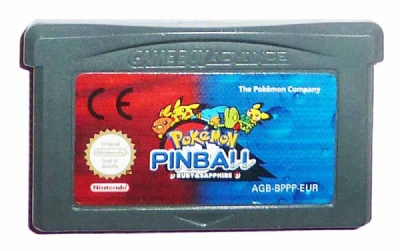 Pokemon Pinball: Ruby & Sapphire - Game Boy Advance
GBA-POKEMRUS
Pokemon Pinball: Ruby & Sapphire - Game Boy Advance
The pocket monsters are back on the pinball table, this time with the latest batch of creatures from the Ruby & Sapphire series on GBA joining the already established cast of characters.

Your job is to not only use the Poke-ball as a pinball and rack up the biggest score on the table, but to also capture the Pokemon through a selection of mini-games and challenges during the usual pinball game. Simply hit the required areas of the board with the ball and you'll capture the monster available. There's 200 to find in total.

Two different boards are on offer, each based on the two versions of Pokemon for GBA (i.e. Ruby and Sapphire). Each board represents a new challenge as well as which Pokemon you can catch during play.

Although there is no 2 player battle mode of sorts, you can trade Pokemon and high scores using the link cable.
Genuine Official Nintendo cartridge. 100% guarantee. These days, it is becoming increasingly difficult to be sure that you are buying an official Nintendo Pokemon cartridge, with all of the counterfeit cartridges that have flooded the market. With Fully Retro, you never need to have this worry. With years of experience, we can always spot a counterfeit item, and will only ever sell 100% Nintendo official cartridges. Please be careful to avoid counterfeit Pokemon cartridges, and unite with us in helping to have these removed from the market.
Buy Pokemon Pinball: Ruby & Sapphire - Game Boy Advance now from Fully Retro. Shipping to Australia and New Zealand.
| | |
| --- | --- |
| Name: | Pokemon Pinball: Ruby & Sapphire - Game Boy Advance |
| Released: | 2003 |
| Genre: | Action |
| Players: | 1 to 4 |
| Ratings: | E (Exempt From Classification) |
| Format: | PAL |
| Languages: | English,German,French,Italian,Spanish |
| Contains: | Cartridge Only |
| Developer: | Jupiter |
| Publisher: | Nintendo |
Free Shipping
Shipping is free on all games throughout Australia and New Zealand.
Destinations
All items can be shipped throughout Australia and New Zealand, and to the rest of the world. Please add items to your basket to see your delivery charge if you are outside of Australia or New Zealand.
Dispatch Times
Items are dispatched within 3 working days unless otherwise stated. Your estimated dispatch date will be shown at checkout. Some items may be in stock at our supplier and require a transfer to our dispatch centre before being sent, these will all have a later estimated dispatch date shown in your basket and on your order confirmation. Please note that these dates are estimated, and whilst we always aim to meet and often exceed these dates, there will be the occasional item that is dispatched slightly later than the estimate.
Shipping Times
Shipping times are approximately 14 days to Australia and New Zealand.
Shipping Internationally is as follows:
Europe: 7-10 days
Rest of the World: 14 days
Delivery Costs
Delivery costs vary by item, but as standard to Australia are:
Games: FREE
Accessories: FREE
Consoles: FREE
Handheld Consoles: FREE
Delayed or missing items
If you have not received your item within the timeframe estimated on your dispatch confirmation, please contact us, and we will be happy to look into this for you. There can be delays caused by weather, holidays, and postal and customs backlogs. These are thankfully fairly uncommon, but please do not be alarmed if your item is a little late. On the incredibly rare occasion that an item is found to be lost, a replacement will be provided.
Returns
If you are unsatisfied with any of the items received (which we hope, due to our high standards, would never happen) please let us know within 7 days of receipt, as we can usually offer a replacement.
Please ensure that you do contact us first for a return authorisation code, as returns will not be accepted without this.