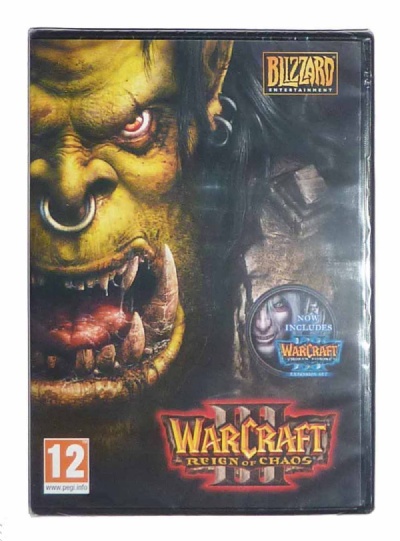 Warcraft III: Gold Edition (Reign of Chaos & The Frozen Throne) - PC
PC-WARCF3GE
Warcraft III: Gold Edition (Reign of Chaos & The Frozen Throne) - PC
Including Warcraft 3: The Frozen Throne

Warcraft 3: Reign of Chaos

It has been nearly fifteen years since the war between the orcs and humans ended. An uneasy peace settled over the land while, for years, the drums of war were silent. Yet the kingdoms of men grew complacent in their victory - and slowly, the defeated orcish clans regrouped under the banner of a new visionary leader.

Now a darker shadow has fallen over the world, threatening to extinguish all life - all hope. The drums of war play upon the winds once again - rising urgently towards the inevitable hour when the skies will rain fire - and the world will tremble before the coming of the Burning Legion.

Four Unique Races armed with distinctive units, magical abilities, and weapons of war.

Two nations of warriors new to the Warcraft Universe; the plague-ridden Undead and the mysterious Night Elves.

Brilliant three-dimensional graphics powered by Blizzard's own 3D engine, which offers support for multiple resolutions and customizable detail settings.

Build Legendary Heroes, whose ability to advance in levels and learn new spells and abilities makes them the core of each race's force. Heroes can use Special Items and Equipment dropped by Neutral Units or purchased from Neutral Buildings to turn the tide of battle.

Neutral Buildings, accessible by each race's Heroes, offer a variety of wondrous magic items and fearsome mercenary units--all for a price. Neutral Units inhabit the world of Azeroth and impede the unwarry but yield precious treasure when defeated in combat.
Buy Warcraft III: Gold Edition (Reign of Chaos & The Frozen Throne) - PC now from Fully Retro. Shipping to Australia and New Zealand.
| | |
| --- | --- |
| Name: | Warcraft III: Gold Edition (Reign of Chaos & The Frozen Throne) - PC |
| Released: | 2002 |
| Genre: | Strategy |
| Format: | PC DVD-ROM |
| Languages: | English |
| Developer: | Reflections Interactive |
Covid-19 update
We're still open for business as usual, and shipping games out to you in these difficult times. Given the global lockdowns, there are understandably delays in items being received. Whilst we have not yet revised dispatch / delivery estimates whilst we learn more about the impact that Covid-19 is having on postal services. In the meantime, we would ask that you are as patient as possible, and understand that we are doing everything we can to get your items out to you as soon as humanly possible.
Stay safe and keep gaming! :)
Free Shipping
Shipping is free on all games throughout Australia and New Zealand.
Destinations
All items can be shipped throughout Australia and New Zealand, and to the rest of the world. Please add items to your basket to see your delivery charge if you are outside of Australia or New Zealand.
Dispatch Times
Items are dispatched within 3 working days unless otherwise stated. Your estimated dispatch date will be shown at checkout. Some items may be in stock at our supplier and require a transfer to our dispatch centre before being sent, these will all have a later estimated dispatch date shown in your basket and on your order confirmation. Please note that these dates are estimated, and whilst we always aim to meet and often exceed these dates, there will be the occasional item that is dispatched slightly later than the estimate.
Shipping Times
Shipping times are approximately 14 days to Australia and New Zealand.
Shipping Internationally is as follows:
Europe: 7-10 days
Rest of the World: 14 days
Delivery Costs
Delivery costs vary by item, but as standard to Australia are:
Games: FREE
Accessories: FREE
Consoles: FREE
Handheld Consoles: FREE
Delayed or missing items
If you have not received your item within the timeframe estimated on your dispatch confirmation, please contact us, and we will be happy to look into this for you. There can be delays caused by weather, holidays, and postal and customs backlogs. These are thankfully fairly uncommon, but please do not be alarmed if your item is a little late. On the incredibly rare occasion that an item is found to be lost, a replacement will be provided.
Please ensure that you check your delivery address before buying. We cannot be held responsible for lost items where an incorrect address has been provided.
Returns
If you are unsatisfied with any of the items received (which we hope, due to our high standards, would never happen) please let us know within 7 days of receipt, as we can usually offer a replacement.
Please ensure that you do contact us first for a return authorisation code, as returns will not be accepted without this.
Stock coming soon