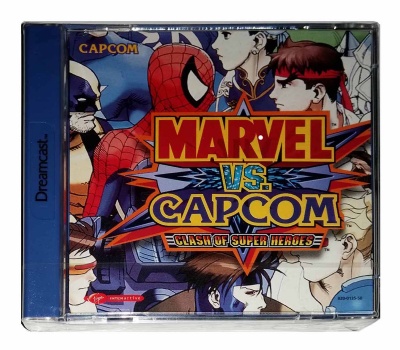 Marvel vs. Capcom: Clash of Super Heroes (New & Sealed) - Dreamcast
SDC-MARVE1NS
Marvel vs. Capcom: Clash of Super Heroes (New & Sealed) - Dreamcast
Marvel vs. Capcom: Clash of Super Heroes is a 2D fighting game that combines characters from Capcom's videogames with characters from the Marvel comic universe, similar to Marvel Super Heroes Vs. Street Fighter. The game takes place in a Marvel universe where Professor Charles Xavier asks the heroes to help him before he merges with the consciousness of Magneto to form the being known as Onslaught, the final boss.

The game follows the standard fighting gameplay, but different from X-Men vs. Street Fighter you now have to make up a squad of three characters instead of two. The other characters can be summoned for assist attacks and there is also a duo team attack to control two characters for a brief time, along with the ability to perform super moves where the characters team up.

Options include a straight arcade battle, 4-player tag modes (Dreamcast version only), a survival mode (much like Street Fighter Alpha 3) and a training mode. The PlayStation version does not have the 4-player tag mode and also reduces the second character to an assist role, but in addition introduces a "crossover" mode where tag-team play with identical teams is possible.

For Marvel the cast of playable characters includes Spider Man, Captain America, Venom, Hulk, Gambit, War Machine, Wolverine, Gold War Machine (secret character), Hyper Venom (secret character), Orange Hulk (secret character) and Onslaught (secret character). The Capcom side offers Chun-Li, Ryu, Zangief, Morrigan Aensland, Captain Commando, Megaman (Rockman in Asia), Strider Hiryu, Jin Saotome, Roll (secret character), Lilith-Mode Morrigan (secret character) and Shadow Lady (secret character). There is also a large number of special partners that can be summoned.
Buy Marvel vs. Capcom: Clash of Super Heroes (New & Sealed) - Dreamcast now from Fully Retro. Shipping to Australia and New Zealand.
| | |
| --- | --- |
| Name: | Marvel vs. Capcom: Clash of Super Heroes (New & Sealed) - Dreamcast |
| Released: | 1999 |
| Genre: | Fighting |
| Format: | PAL |
| Languages: | English |
| Developer: | Capcom |
| Publisher: | Capcom |
Free Shipping
Shipping is free on all games throughout Australia and New Zealand.
Destinations
All items can be shipped throughout Australia and New Zealand, and to the rest of the world. Please add items to your basket to see your delivery charge if you are outside of Australia or New Zealand.
Dispatch Times
Items are dispatched within 3 working days unless otherwise stated. Your estimated dispatch date will be shown at checkout. Some items may be in stock at our supplier and require a transfer to our dispatch centre before being sent, these will all have a later estimated dispatch date shown in your basket and on your order confirmation. Please note that these dates are estimated, and whilst we always aim to meet and often exceed these dates, there will be the occasional item that is dispatched slightly later than the estimate.
Shipping Times
Shipping times are approximately 14 days to Australia and New Zealand.
Shipping Internationally is as follows:
Europe: 7-10 days
Rest of the World: 14 days
Delivery Costs
Delivery costs vary by item, but as standard to Australia are:
Games: FREE
Accessories: FREE
Consoles: $13.90 per item
Handheld Consoles: FREE
Returns
If you are unsatisfied with any of the items received (which we hope, due to our high standards, would never happen) please let us know within 7 days of receipt, as we can usually offer a replacement.
Please ensure that you do contact us first for a return authorisation code, as returns will not be accepted without this.
here is our new product please click cartier love bracelet,buy now get big discount.