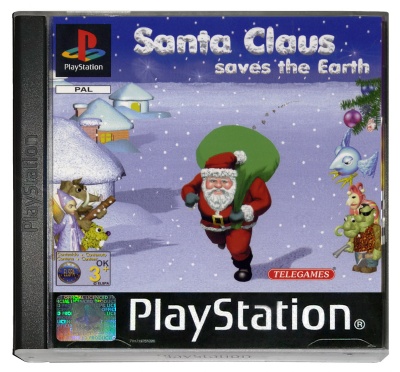 Santa Claus Saves the Earth - Playstation
PS1-SANTACLA
Santa Claus Saves the Earth - Playstation
Wow! Only one day left until Christmas! Little children all over the world are anxiously awaiting Santa's visit. Meanwhile, very deep underground lives a wicked fairy, Nilam. She has a magic pot that allows her to see everywhere in the world. She looked into her pot and saw Santa and his helpers packing presents for all the children and became furious that so much joy existed in the world. Nilam concocted a spell that enchanted Santa and locked him in her magic lands. You must help Santa escape the worlds controlled by Nilam, so that he can complete his Christmas Eve mission. Only a few hours remain, so get cracking! Experience how difficult it is to be Santa Claus. 256 colour graphics. Parallax background scrolling. Digitised sound effects. Animated in-game cartoons. Defeat guards and other creatures with snowballs and other cool defences. Discover four unique worlds in fifteen different levels.
Black Label Edition
Where multiple versions were released, this may be the Big Box version, standard original black label, or classics / value / best of range, regardless of the image. It will NOT be the platinum version. If you require a particular version, please contact us before purchasing, as we are not always able to guarantee a particular version.
Buy Santa Claus Saves the Earth - Playstation now from Fully Retro. Shipping to Australia and New Zealand.
| | |
| --- | --- |
| Name: | Santa Claus Saves the Earth - Playstation |
| Released: | 2002 |
| Genre: | Action |
| Players: | 1 |
| Ratings: | E (Exempt From Classification) |
| Format: | PAL |
| Languages: | English |
| Developer: | Reflections Interactive |
| Publisher: | Telegames |
Covid-19 update
We're still open for business as usual, and shipping games out to you in these difficult times. Given the global lockdowns, there are understandably delays in items being received. Whilst we have not yet revised dispatch / delivery estimates whilst we learn more about the impact that Covid-19 is having on postal services. In the meantime, we would ask that you are as patient as possible, and understand that we are doing everything we can to get your items out to you as soon as humanly possible.
Stay safe and keep gaming! :)
Free Shipping
Shipping is free on all games throughout Australia and New Zealand.
Destinations
All items can be shipped throughout Australia and New Zealand, and to the rest of the world. Please add items to your basket to see your delivery charge if you are outside of Australia or New Zealand.
Dispatch Times
Items are dispatched within 3 working days unless otherwise stated. Your estimated dispatch date will be shown at checkout. Some items may be in stock at our supplier and require a transfer to our dispatch centre before being sent, these will all have a later estimated dispatch date shown in your basket and on your order confirmation. Please note that these dates are estimated, and whilst we always aim to meet and often exceed these dates, there will be the occasional item that is dispatched slightly later than the estimate.
Shipping Times
Shipping times are approximately 14 days to Australia and New Zealand.
Shipping Internationally is as follows:
Europe: 7-10 days
Rest of the World: 14 days
Delivery Costs
Delivery costs vary by item, but as standard to Australia are:
Games: FREE
Accessories: FREE
Consoles: FREE
Handheld Consoles: FREE
Delayed or missing items
If you have not received your item within the timeframe estimated on your dispatch confirmation, please contact us, and we will be happy to look into this for you. There can be delays caused by weather, holidays, and postal and customs backlogs. These are thankfully fairly uncommon, but please do not be alarmed if your item is a little late. On the incredibly rare occasion that an item is found to be lost, a replacement will be provided.
Please ensure that you check your delivery address before buying. We cannot be held responsible for lost items where an incorrect address has been provided.
Returns
If you are unsatisfied with any of the items received (which we hope, due to our high standards, would never happen) please let us know within 7 days of receipt, as we can usually offer a replacement.
Please ensure that you do contact us first for a return authorisation code, as returns will not be accepted without this.