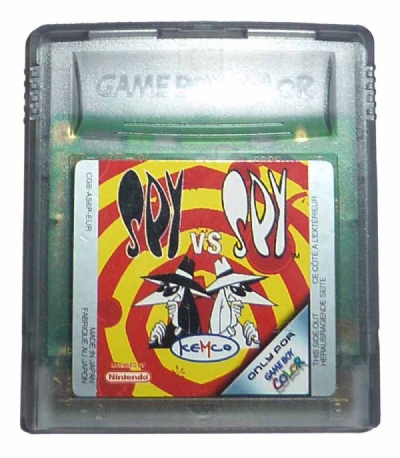 Spy vs. Spy (Game Boy Color) - Game Boy
GB-SPYVSGBC
Spy vs. Spy (Game Boy Color) - Game Boy
Players take on the role of a spy in white (or black), and go on a mission to go to four different locations and collect 4 items: a CD, passport, key and a sum of cash (and a brief-case to contain these things). But there's a snatch, another spy is also on the same mission. Players have to sweep him out of their way and collect the items before he does!

Players have a choice among four locations and between Black Spy and White Spy. Each location contains a certain number of levels, which all have the same objectives: get the briefcase, collect the four items and get to the exit door. Players can try to slow their competitor down by killing him by placing traps in the rooms (dynamite, coil, spring, bucket and a time bomb) or using weapons (fists, knife and stick) when encountering him. When getting killed, players will be redirected to the starting point and all collected items are lost. Players are provided with a map which shows how many rooms there are and what is inside each room (trap, players' counterpart, items). Players can never be killed off entirely. The game is only over when the counterpart gets all the items and escapes through the exit door.

The graphics are in 2D. The player's process is saved via passwords. The player can play against the computer or another player.
Buy Spy vs. Spy (Game Boy Color) - Game Boy now from Fully Retro. Shipping to Australia and New Zealand.
| | |
| --- | --- |
| Name: | Spy vs. Spy (Game Boy Color) - Game Boy |
| Released: | 1999 |
| Genre: | Action |
| Format: | PAL |
| Languages: | English |
| Contains: | Cartridge Only |
| Developer: | Kemco |
| Publisher: | Kemco |
Covid-19 update
We're still open for business as usual, and shipping games out to you in these difficult times. Given the global lockdowns, there are understandably delays in items being received. Whilst we have not yet revised dispatch / delivery estimates whilst we learn more about the impact that Covid-19 is having on postal services. In the meantime, we would ask that you are as patient as possible, and understand that we are doing everything we can to get your items out to you as soon as humanly possible.
Stay safe and keep gaming! :)
Free Shipping
Shipping is free on all games throughout Australia and New Zealand.
Destinations
All items can be shipped throughout Australia and New Zealand, and to the rest of the world. Please add items to your basket to see your delivery charge if you are outside of Australia or New Zealand.
Dispatch Times
Items are dispatched within 3 working days unless otherwise stated. Your estimated dispatch date will be shown at checkout. Some items may be in stock at our supplier and require a transfer to our dispatch centre before being sent, these will all have a later estimated dispatch date shown in your basket and on your order confirmation. Please note that these dates are estimated, and whilst we always aim to meet and often exceed these dates, there will be the occasional item that is dispatched slightly later than the estimate.
Shipping Times
Shipping times are approximately 14 days to Australia and New Zealand.
Shipping Internationally is as follows:
Europe: 7-10 days
Rest of the World: 14 days
Delivery Costs
Delivery costs vary by item, but as standard to Australia are:
Games: FREE
Accessories: FREE
Consoles: FREE
Handheld Consoles: FREE
Delayed or missing items
If you have not received your item within the timeframe estimated on your dispatch confirmation, please contact us, and we will be happy to look into this for you. There can be delays caused by weather, holidays, and postal and customs backlogs. These are thankfully fairly uncommon, but please do not be alarmed if your item is a little late. On the incredibly rare occasion that an item is found to be lost, a replacement will be provided.
Please ensure that you check your delivery address before buying. We cannot be held responsible for lost items where an incorrect address has been provided.
Returns
If you are unsatisfied with any of the items received (which we hope, due to our high standards, would never happen) please let us know within 7 days of receipt, as we can usually offer a replacement.
Please ensure that you do contact us first for a return authorisation code, as returns will not be accepted without this.