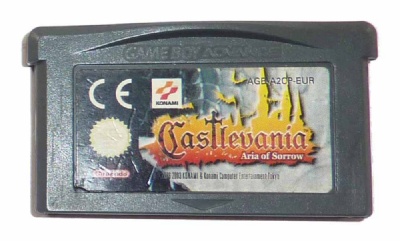 Castlevania: Aria of Sorrow - Game Boy Advance
GBA-CVANIAAS
Castlevania: Aria of Sorrow - Game Boy Advance
Normally a solar eclipse isn't a dangerous event, but for Soma Cruz being sucked through a portal and into Dracula's castle during one will turn his day into a total nightmare. As Soma you must venture through the castle and find a way out. As you do so, you will discover the true meaning behind the event, and why Dracula has risen yet again.

Although set in the future, all of the weapons and hazards are the same or similar to those seen in past Castlevania titles. Soma can find or buy weapons of all types such as swords, spears, and axes. Through his mysterious power of Dominance Soma can take the souls of his enemies and use their powers as his own, providing passive stat boosts, powerful magic, or even summoning them forth to fight on his behalf. Dracula's castle is a single continuous building, and as Soma's power of Dominance grows and he acquires more monster souls to power abilities he can bypass obstacles that were previously insurmountable. Players can link up with a friend's copy of Castlevania: Aria of Sorrow to trade souls between them.
Buy Castlevania: Aria of Sorrow - Game Boy Advance now from Fully Retro. Shipping to Australia and New Zealand.
| | |
| --- | --- |
| Name: | Castlevania: Aria of Sorrow - Game Boy Advance |
| Released: | 2003 |
| Genre: | Action |
| Format: | PAL |
| Languages: | English |
| Contains: | Cartridge Only |
| Developer: | Konami |
| Publisher: | Konami |
Free Shipping
Shipping is free on all games throughout Australia and New Zealand.
Destinations
All items can be shipped throughout Australia and New Zealand, and to the rest of the world. Please add items to your basket to see your delivery charge if you are outside of Australia or New Zealand.
Dispatch Times
Items are dispatched within 3 working days unless otherwise stated. Your estimated dispatch date will be shown at checkout. Some items may be in stock at our supplier and require a transfer to our dispatch centre before being sent, these will all have a later estimated dispatch date shown in your basket and on your order confirmation. Please note that these dates are estimated, and whilst we always aim to meet and often exceed these dates, there will be the occasional item that is dispatched slightly later than the estimate.
Shipping Times
Shipping times are approximately 14 days to Australia and New Zealand.
Shipping Internationally is as follows:
Europe: 7-10 days
Rest of the World: 14 days
Delivery Costs
Delivery costs vary by item, but as standard to Australia are:
Games: FREE
Accessories: FREE
Consoles: $13.90 per item
Handheld Consoles: FREE
Returns
If you are unsatisfied with any of the items received (which we hope, due to our high standards, would never happen) please let us know within 7 days of receipt, as we can usually offer a replacement.
Please ensure that you do contact us first for a return authorisation code, as returns will not be accepted without this.
here is our new product please click cartier love bracelet,buy now get big discount.