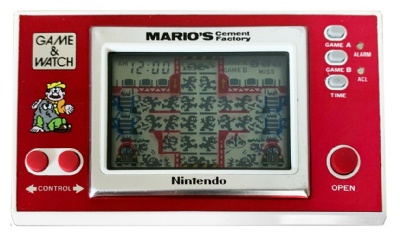 Mario's Cement Factory: Wide Screen Series - Game & Watch
GAW-WIMARIOC
Mario's Cement Factory: Wide Screen Series - Game & Watch
Mario's Cement Factory is a Wide Screen Game & Watch game, released on June 16, 1983, with the product number ML-102.

In the cement factory, Mario is operating 2 concrete mixers, feeding concrete into the hoppers. Lifts go up and down. Mario has to hop on and off the lifts to open the valves on the hoppers. Concrete moves from upper hoppers to lower hoppers, from lower hoppers to trucks.

At start of game, Mario appears on the upper left scaffold. Buckets of cement move along conveyor belt and empty into the left and right hoppers. The hoppers have to be emptied before they reached their limit. Each hopper holds 3 loads of concrete. Move Mario to the hopper levers and get him to open the hoppers by pressing OPEN button. The concrete will flow to the next lower position, from upper hoppers to lower, from lower hoppers to trucks, Only one load of concrete flows with each press of the button. When one hopper is full, a warning signal sounds. Move Mario fast to open it, and watch the bottom hoppers too. When a lift is on the same level as the scaffold that Mario is standing on, he can ride it up or down by moving him left or roght with the Control Button. If Mario rides a lift all the way down, he can move into a shelter on the lower left, and over to an up lift when up and down lift are lined up. He has to move fast.
Buy Mario's Cement Factory: Wide Screen Series - Game & Watch now from Fully Retro. Shipping to Australia and New Zealand.
| | |
| --- | --- |
| Name: | Mario's Cement Factory: Wide Screen Series - Game & Watch |
| Released: | 1983 |
| Genre: | Arcade |
| Format: | PAL |
| Languages: | English |
| Contains: | Game Only |
| Developer: | Nintendo |
| Publisher: | Nintendo |
Free Shipping
Shipping is free on all games throughout Australia and New Zealand.
Destinations
All items can be shipped throughout Australia and New Zealand, and to the rest of the world. Please add items to your basket to see your delivery charge if you are outside of Australia or New Zealand.
Dispatch Times
Items are dispatched within 3 working days unless otherwise stated. Your estimated dispatch date will be shown at checkout. Some items may be in stock at our supplier and require a transfer to our dispatch centre before being sent, these will all have a later estimated dispatch date shown in your basket and on your order confirmation. Please note that these dates are estimated, and whilst we always aim to meet and often exceed these dates, there will be the occasional item that is dispatched slightly later than the estimate.
Shipping Times
Shipping times are approximately 14 days to Australia and New Zealand.
Shipping Internationally is as follows:
Europe: 7-10 days
Rest of the World: 14 days
Delivery Costs
Delivery costs vary by item, but as standard to Australia are:
Games: FREE
Accessories: FREE
Consoles: $13.90 per item
Handheld Consoles: FREE
Returns
If you are unsatisfied with any of the items received (which we hope, due to our high standards, would never happen) please let us know within 7 days of receipt, as we can usually offer a replacement.
Please ensure that you do contact us first for a return authorisation code, as returns will not be accepted without this.
here is our new product please click cartier love bracelet,buy now get big discount.